Our Second Year, Janurary 19-21 2018
It took some time and determination to locate a new venue that was appropiate for our contest. We ended up with a wonderful facility made available by Extreme Productions that allowed us several liberties and freedoms not offered by the 501, not to mention came pre-stocked with some fun equipment! We had outstanding community turnout supporting our contest, with representatives from the following clubs and organizations attending:
Badger PAH
Barking News Magazine
Blue Max CC
CAGE
Chicago HellFire Club
Chicago Puppy Patrol
Chicago Rubbermen
Crossroads Leather
GLLA
IKS
IMAS
Indiana Leather Club
Indy PAH
Kentucky Bourbon Bears
Lafayette Alternative Lifestyles
MaST Tippecanoe
MaST Tippecanoe
MAsT: Indianapolis
Midwest Puppy
Naptown Pony and Critter Club
NLA - Columbus
North Star Kennel Club
Ohio Valley Puppy
OLA
Phoenix boys of Leather
Puppies in the Mountains
Ruff Pups
SEA-PAH
Titans of The Midwest
Tri-State Leather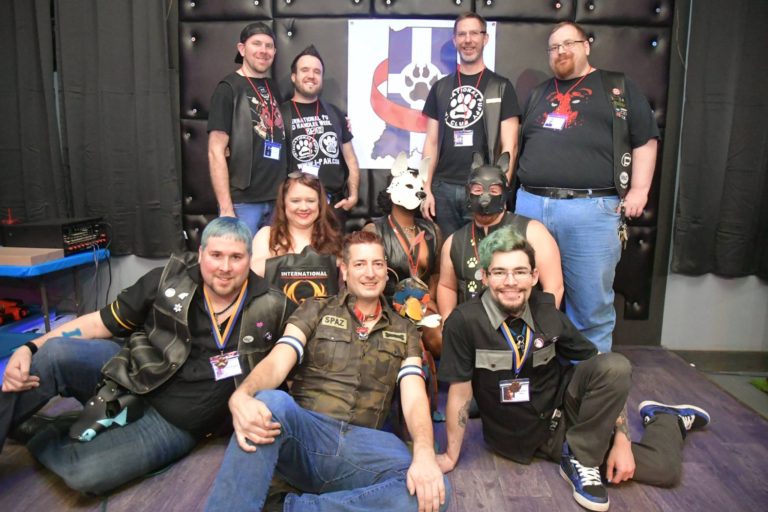 Press Release (1/22/2018)
INDIANAPOLIS — Pup Dragon won the Indiana Puppy 2018 title on Saturday, Jan. 20, in Indianapolis.
This was the second year for the contest and first in a new space on the Indianapolis north side. There was no Trainer contestant this year.
The judges for this year were:
Pup Dodger, IPTC International Puppy 2017/2018
slave adeena, International Person of Leather 2017
Sir Nate, Great Lakes Trainer 2018
Daddy John, Great Lakes Trainer 2016/2017
Pup Kaine, Ohio Valley Puppy 2016
Pup Skorpio, Tri-State Pup 2016
Mactep, Mr. Great Lakes Olympus Leather 2015/2016
Pup Spaz is the executive producer for the contest with Mr. Tri-State Leather 2013 Dennis Wood serving as den daddy. Indiana Puppy 2017 Pup Princess and Indy-PAH co-founder Pup Spike served as tallymasters. Pup Jaxon was judges' pup.