Pup Scout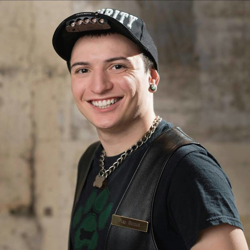 Pup Scout identifies as a Husky and acts as a community Alpha and Guard Dog. Based in the city of Chicago, Scout has been an active member in the kink scene since he turned 19. As co-owner of the Midwest Puppy and Handler Contest, he is always looking for an opportunity to grow and develop the community at large.
Understanding the need for an increased visibility for mental health issues within the world of kink Scout and his partner Daddy John founded the Inter-Fetish Coalition of Suicide Prevention and Awareness (IFCSPA) an outreach initiative designed to educate, destigmatize, and cope with a wide range of neurotic disorders. In the past few years Scout has spoken at many venues and on online forums about suicide prevention, coalition building, and pup and handler play.
When not at work our out serving the community Scout loves spending time with friends and playing video games.
---
Pup Princess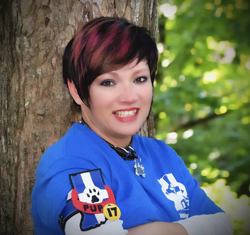 Hi I am Dani, (aka Pup Princess). I started in the swinger/open/poly community at age 20. I found the kink/leather community in 2012 and knew I finally found a home... And in the distance I heard "Woof"! Over the past 5 years of holidays, birthdays, cookouts and late night flogging sessions I am proud to call this community my chosen family. My Daddy/handler Sir Jai and I are avid supporters of both the Indiana Falcons and Indy PAH and was rewarded Indiana Falcons Supporters of the Year 2013. I am proud to have been chosen to be part of Spaz Pack. I am so honored and proud to have been chosen as the firt Indiana Puppy, but more importantly I was able to spread my bark! A.R.F. Acceptance, Respect, Friendship within the pup and LGBTQ communities. Even though I do naughty things, Daddy says I am still a good girl!
---
Rhiannon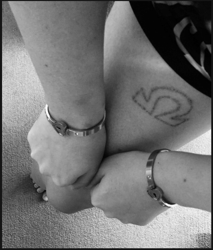 Rhiannon is an Indianapolis submissive who is fortunate to skillfully serve her Sir through housecleaning and hot sex (though she much prefers the latter!) She has presented classes in the past on BDSM research and an Introduction to Scene-Crafting. Rhiannon is an avid kinky contest attendee, and is excited for the chance to judge her first contest with IPAT. She is also the Chief Wrangler and Event Coordinator of House Awkward Turtle, which includes two unremarkable bio-dogs, the 2019 GLLA Puppy, and the current IPC International Puppy 2019
---
Griffyn ap Owain (Daddy Griffyn)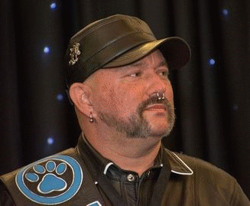 Griffyn Ap Owain (Daddy Griff) is the current IPTC Puppy Trainer 2018, and formally Rocky Mountain IPTC Puppy Trainer 2017. Residing in Denver Colorado, Griffyn is a member of Rocky Mountain Leather Alliance, Rocky Mountain Pet Alliance, and Denver Puppies and Handlers. He is a big proponent of volunteerism and community service, always striving to build bridges. His journey in the kink community started over 25 years ago as a young man coming out in the gay bars of Europe. While he enjoys many different kinks, his two favorites are puppies and food. Griffyn is currently an event manager when he is not in school pursuing a degree in Fine Arts.

---
Master Scott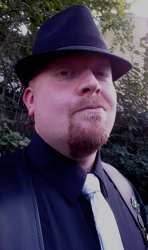 A lifelong native of Indiana, Scott has been active in the Indiana Kink and Leather communities for a number of years. He and his slave/co-pilot/best friend, lyon, have been exploring all things kink, leather and power exchange together for nearly 20 years. Ultimately recognizing that their relationship had always contained an underlying element of power exchange, they began a Master/slave relationship in 2012 and have never looked back!
Scott believes wholeheartedly in demystifying the M/s lifestyle. Aiming to dispel notions that his life with lyon is a never-ending series of debaucherous delights, he regularly shares their everyday experiences with his community to illustrate that every M/s relationship is a work in progress and that there is always room for a bit of silliness.
Along with his slave, Scott has had the honor to present on various topics for groups across the Midwest and beyond. Scott is a supporting member of the Indiana Leather Club and also serves as the current administrator and webmaster for MAsT: Indianapolis.
Scott is incredibly honored to have served, along with his slave, as the Great Lakes Leather Alliance Master/slave couple for 2017.
---
Indybabygirl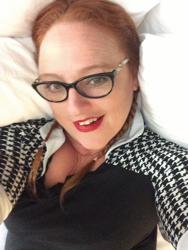 Indybabygirl is a pansexual leather girl who has been a part of the leather/kink/fetish lifestyle for 9+ years
She is The current Indiana Ms Leather Pride and is proud to be serving her local leather and kink community.
Indy is also the 2016 North American pony trainer . In addition she is a member of The Edgewalkers , a supporting member of The Edgeriders MC evergreen chapter and currently serves on the board of IKS (Indianapolis kink society) Indy loves to teach and inspires others and has presented across the country on such topics as pony/animal role play, water sports, personal accountability as a bottom and IPV within the alternative lifestyle scene.
---
Sir Justin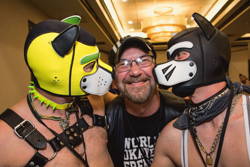 Sir Justin has been involved in the Chicago leather community for nearly two decades. In that time he has served his community in varying capacities. He has served on the boards of several local and national organizations and has also served his community as a local, regional, and international titleholder. Currently Sir Justin is the Executive Producer of the International Puppy and Trainer Contest and Co-Executive Producer of International Puppy and Handler Weekend.
Sir Justin is a fierce defender of education as a means to bridge gaps when there are areas of division. He attained a PhD in Education and teaches every chance he gets. Since earning his international title, he has taught/lectured/spoken in 28 states and seven foreign countries. While best known for teaching puppy-related classes, he also teaches on a variety of other kink and leather-related topics. He has also authored two books: BARK! which chronicles his movement through the puppy community and Love Thy Neighbor…Unless He's Gay which tackles the chasm between homosexuality and religion. He is currently working on co-authoring a third book.
His favorite achievement is being Sir of the Dogwood Pack. He is happily loved and in love with his Alpha-pup, Kona; beta-pups Chase, Leaf, Magnus, and Ruck; and crazy cousin Harley, the piglet.