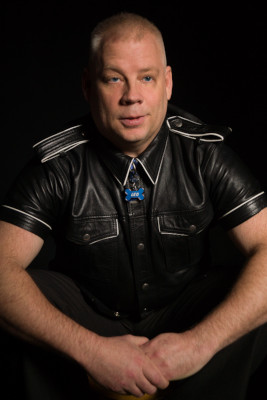 Pup Leo is proud and excited to represent the puppy community as Indiana Pup 2019.
Outside of the kink community, Leo was an Instructor Trainer with International Divers Educators Association teaching recreational, police and fire rescue scuba diving.
Originally from Florida, Leo is a co-founder of MCO-PAH and was part of Northeast Kennel club. Leo relocated to Indianapolis in 2018 where he found his chosen leather family. Leo is active in both the puppy and leather community - a part of Crossroads Leather, member Indiana Kinky Society and a pup of Indy-PAH.
If his leg is not hiked on his own fire hydrant, he can be found diapered on the puppy mats at a mosh or tied up in a sling… Give a dog a bone!