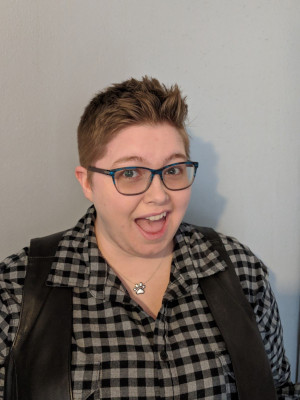 Kinsey (she/her) identifies as an asexual trainer and little from Lafayette, Indiana. Active in the kink community for over a decade, Kinsey is a member of Indy Pets and Handlers and MAsT: Tippecanoe. When not lifting up a room with her enthusiasm and joy, she is likely cuddling her human pup Echo and her four legged dog Dexter.
In her vanilla life Kinsey is a dog groomer and that shows in her life as a trainer. Kinsey enjoys giving hot wax massages, grooming Echo, and is absolutely not a sadist, she promises... look it was just that one time. Okay, maybe twice, and she only punched that puppy a little.
As Indiana Trainer 2019 Kinsey's mission is to share her passion for education, service and training, all while raising asexual awareness within her community.