12:00 PM Mummification - Sir Wolf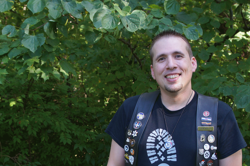 Class Description: Ever wonder what it's like to be mummified? Well, this is a rare opportunity to learn all about mummification! Please join Sir Wolf as he carefully explains how to mummify your partner. The class will cover a brief history of the kinky art form, safety measures, risks, methods of wrapping, and tools used to make it a more pleasurable experience. After the fun demonstration, the floor will be open for participants to ask questions and share your kinky experiences.
Presenter Bio: Sir Wolf is The Special Events Coordinator and regular contributor for Barking News Magazine as well as a featured author for the internationally-known website pupplay.info. He's been into kink since as long as he can remember, but entered into pup play back in 2012 when his then-boyfriend asked him if he wanted a human pup. Jumping at the opportunity, Sir Wolf has been handling and training pups ever since. Sir Wolf has had the honor of being runner up for handler of the year and nominated 2 years in a row.
Currently, Sir Wolf is the Handler of The Wolf Pack while remaining deeply involved in his greater local kink community. He is a full member of the Chicago Puppy Patrol as well as The Titans of the Midwest. Sir Wolf has a passion for teaching. As an educator, he has taught at CLAW, GLLA, Midwest Puppy, as well as at Kink U, a series of weekend classes put on and sponsored by The Titans of the Midwest.
Sir Wolf continues to involve himself in the regional community and hopes his work both at home and in the surrounding area will help educate more people as to how to do kink safely. He also encourages more kinksters to learn more about the pup/Handler community.
12:00 PM The Good Touch Games - Pup Havok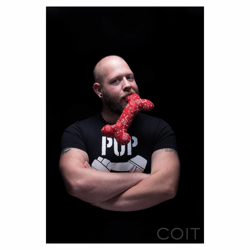 Class Description: Consent is the corner stone of our community. This hands-on class teaches consent in practical ways. Bring a friend but don't expect to get paired with them as you are guided through a series of 9 games. This sexy and simple class will teach even the most experienced player a thing or two and give the rookie a safe and solid foundation.

Presenter Bio: Pup Havok is a slutty sex positive St. Bernard who calls Indianapolis, Indiana home. This boot licking boofer lives up to his namesake in many different fashions and a proud "queer-as-fuck switch," Havok has made quite a name for himself in the leather and Kink community since joining in 2012. He is a co-founder of Project Touch Base, currently serves as a full member of the Titans of the Midwest and the GDI Outlaws, and is the recipient of the Bear Abbot Community Commitment Award 2018. He can be described as extremely touchy-feely given some his favorite kinks include heavy impact, tactile knife, fisting and of course, puppy play. He also enjoys facing the elements with electro and fire play.

He was TriState Puppy 2017 and is currently your IPC International Puppy 2019. As a community educator, Kink enthusiast, feminist, collard puppy and relationship anarchist, Havok is certainly a good place to start if you're looking to wreak some "havoc" of your own!

1:00 PM A Whole Toy Bag In Your Hands - Sir Big Daddy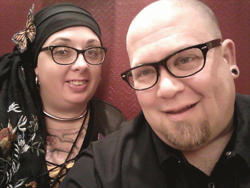 Class Description: Who needs all those toys when you have so many right with you? Expand your toybag without spending a dime. Come learn about rough body play and some great techniques for impact play, pressure play, manipulating flesh, and controlling and dominating your bottom using nothing but your bare hands. Notice: This type of play can be considered "heavy" at times and is more of a R.A.C.K. activity than S.S.C.K. If punching someone with a closed fist is triggering for you, do not attend this class.
Presenter Bio: Sir_BigDaddy and slaveJodi have been living together in a 24/7 M/s relationship since 2012. Empty-nesters from Southern Indiana, they have an "executive/personal assistant" style dynamic, and enjoy helping others that are new to the lifestyle or a power exchange by openly sharing both their successes and struggles. Sir_BigDaddy serves on the board of directors for the Indianapolis Kink Society, and is the 2018 winner of the GLLA Presenter's Shark Tank Competition. SlaveJodi is an active member of the Hard Pink Sisters and they both are MAsT Indianapolis members.

1:00 PM Handler 101 - Sir Justin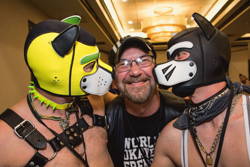 Class Description: This class takes an honest look at the community expectations of the role of Trainer/Handler. We will define terms, share experiences, and explore techniques for training puppies. One of the focuses of this class is the reality that all puppies are different and, therefore, must be approached differently. Time will be given for discussion and questions.
Presenter Bio: Sir Justin has been involved in the Chicago leather community for nearly two decades. In that time he has served his community in varying capacities. He has served on the boards of several local and national organizations and has also served his community as a local, regional, and international titleholder. Currently Sir Justin is the Executive Producer of the International Puppy and Trainer Contest and Co-Executive Producer of International Puppy and Handler Weekend.
Sir Justin is a fierce defender of education as a means to bridge gaps when there are areas of division. He attained a PhD in Education and teaches every chance he gets. Since earning his international title, he has taught/lectured/spoken in 28 states and seven foreign countries. While best known for teaching puppy-related classes, he also teaches on a variety of other kink and leather-related topics. He has also authored two books: BARK! which chronicles his movement through the puppy community and Love Thy Neighbor…Unless He's Gay which tackles the chasm between homosexuality and religion. He is currently working on co-authoring a third book.
His favorite achievement is being Sir of the Dogwood Pack. He is happily loved and in love with his Alpha-pup, Kona; beta-pups Chase, Leaf, Magnus, and Ruck; and crazy cousin Harley, the piglet.
2:00 PM Introduction to Power Exchange Relationships, Which Bitch is Which? - Master Scott and slave lyon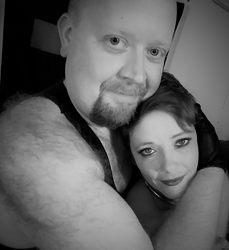 Class Description: This is an introductory exploration of what power exchange is, how it fits into BDSM, and why in the hell anyone would want to do any of this in the first place. Definitions, examples, examining boxes and labels (or what we lovingly refer to as which bitch is which?) and common questions and concerns will be addressed. Most suitable for newcomers to the kinky world, or at least just beginning to dip their toes into the power exchange pool, but applicable to anyone regardless, including the Pup community!
Presenter Bio: Master Scott and slave lyon live in Indianapolis, Indiana. They have been living in an M/s relationship for six years, and have been together in various incarnations for 18. Active in their local community, they are both serve on the board of MAsT: Indianapolis, and lyon is an active member of Hard Pink Sisterhood. They have been blessed to have the opportunity to speak around the country, sharing what they have learned over time with others about living in an M/s dynamic. Some of the topics they love to share include Ring Around the Collar: The Unique Obstacles and Benefits of Coming to M/s after having a Pre-Established Relationship, Mindfulness for Growing Closer in your M/s Dynamic, and Who's Driving Here? Power Struggles, Speedbumps and Control in M/s Dynamics.
They were honored to serve as both GLLA Master and slave 2017 as well as Indiana Leather Pride Master and slave 2017. Both Master and slave believe very much in the magic that happens when people come together to share stories, and facilitating that is their passion, because it's so much harder to do what we do living in a vacuum. They characterize their life together as being one part comedy of errors and one part the filthiest love story never made into a tv movie.
2:00 PM Puppy Yoga - Pup Snuggles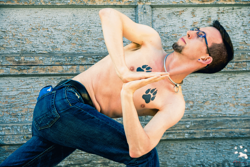 Class Description: Puppy Yoga is a short yoga flow to help pups and Handlers center themselves and physically prepare themselves for the fun times to come. We use many of our muscles when we mosh. So, come learn a great way to prepare them like you would before working out. We will discuss different muscles that are important to stretch and warm up, followed by a 30 minute gentle vinyasa yoga flow. Some yoga mats will be provided, but please bring your own if possible. Also bring a small towel and a bottle of water.
Presenter Bio: Pup Snuggles, Co-Founder of Chicago Puppy Patrol and Great Lakes Leatherboy 2011, has been practicing yoga for approximately 7 years and teaching vinyasa yoga since 2014. He started teaching yoga before puppy moshes like Woof Camp and Off Leash since 2014.
3:00 PM 23 and Me: Pack Dynamics - Bolt Donner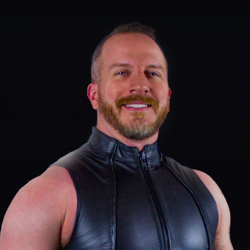 Class Description: We talk a lot about Pup headspace, but not as much about the social and emotional bonds that can come along with being (and loving) a Pup. This class will have stories of how various pack dynamics work for people, stories about pack experiences, and a chance to ask questions and spark discussions.
Presenter Bio: Brian "Bolt" Donner makes his home in Cincinnati. He placed second runner up at IML 2015 as Mr Tri-State Leather, and is current producer of Mr. Cincinnati Leather. He is the current President for Titans of the Midwest, a founding member of the CNKY Ruff Pups and the Cincinnati Sisters. He is a bondage switch, alpha pup, graphic designer and illustrator, enthusiastic educator, dad joke enthusiast, giant comic book nerd and aggressive hugger.
3:00 PM Piss Bliss - Indy Babygirl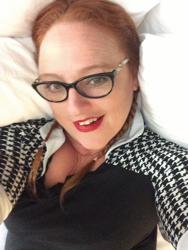 Class Description: A journey into the taboo world of Urolagnia otherwise known as golden showers, watersports , pee play and many other names.
Take a brief look into the history of this taboo fetish as well as the risks and precautions associated with it. Join me for a walk on the wild side as we discuss the many forms this type of play can take, from the sensually intimate to the seriously degrading and humiliating and everything in between . Demos to follow discussion.
Presenter Bio: Indybabygirl is a pansexual leather girl who has been a part of the leather/kink/fetish lifestyle for 9+ years
She is The current Indiana Ms Leather Pride and is proud to be serving her local leather and kink community.
Indy is also the 2016 North American pony trainer . In addition she is a member of The Edgewalkers , a supporting member of The Edgeriders MC evergreen chapter and currently serves on the board of IKS (Indianapolis kink society) Indy loves to teach and inspires others and has presented across the country on such topics as pony/animal role play, water sports, personal accountability as a bottom and IPV within the alternative lifestyle scene.