Rex Shephard
Rex Shephard is International Puppy 2017. A Chicagoland native currently living in the greater Austin, Texas area, he has identified as puppy for over 15 years and has participated in BDSM play for more than 25. In addition to founding and sponsoring Texas Puppy Club, he is a full member of and Austin Gears, and an associate member of Chicago Hellfire Club, Discipline Corps, and over a dozen puppy organizations. Rex is a strong believer that the puppy and larger kinky communities must be fully inclusive and open to all sexual orientations and gender identities. As a wolf-shepherd hybrid, he is known to both howl at the moon and mix up words such as innocent and mischievous. Rex encourages pups to play and be themselves honestly and openly everywhere, in a manner respectful of all, with a key principle being that puppy play and kink should be fun – and we shouldn't be doing it if we're not enjoying it. In addition, he has a passion for those pups in depression, suicide awareness, and PREP education. Rex is also an avid furry, and a SCUBA diver, backpacker, and mountaineer.
soulinpurgatory (soul)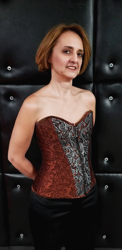 soulinpurgatory (soul) has been an active member of the Indianapolis kink community since 2015. She is very involved in the operation of Indianapolis' local dungeon, subSpace Indy. You can find her there almost any time the doors are open, and even when they aren't.
In addition to her involvement as the dungeon Girl Friday, Head Mistress, or perhaps, Warden, soul has served as a Board Member for Indianapolis Kink Society for three years. She is a supporting member of Indianapolis Leather Club and regularly attends the Indianapolis Newbie Munch.
soul's interest in BDSM lies mostly in kink play. As a bottom, she enjoys needle, impact and fire play, as well as bondage with sensory aspects, and is always up for experimenting with new forms of play.
soul has organized multiple events, both educational and social, for subSpace Indy during the last two years and assists other groups and clubs as the liaison for events in the community.
Logan Savage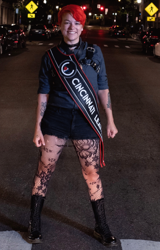 Logan Savage is the first non-binary person to run for and win the Mx. Cincinnati Leather title. They have been involved in the Cincinnati Leather scene since December 2018 but swiftly found a home in this incredible community. They are the resident Kitty and de facto Handler (hey, somebody's got to keep these pups in line) of Pack Savage, which is comprised of their husband Alpha Pup Moose and the pack Beta, Xander. Logan has a particular passion for creating aggressively inclusive spaces for trans and enby leatherfolk and will be hosting a series of local events in Cincinnati this year centered around that mission. They also study power dynamics and how they relate to and are an expression of mental health. When not at leather events, they can be found working, reading, or throwing down in the pit at a local punk rock show.

Brian Bolt Donner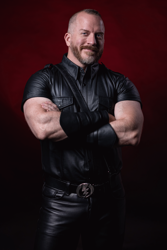 Brian "Bolt" Donner competed and placed third at IML37 in 2015 and hasn't stopped moving since. A founding member of the Cincinnati Sisters of Perpetual Indulgence and the Cincinnati/Northern Kentucky Ruff Pups, President of the Titans of the Midwest from 2018-2019, and Executive Producer for Cincinnati Leather, the first men's contest to remove the gender restriction and become a fully gender-open leather contest. He is a long-time member of the bear, pup, and leather communities, bondage switch, alpha pup, designer, illustrator, educator, giant comic book nerd, dad joke aficionado, kinky bon vivant and rapscallion.
Ms Beth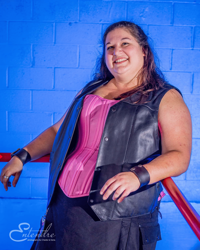 Marching to the beat of a different drummer, Ms. Beth, is proud to be Ms Tri-State Leather 2018. In 2012, Ms. Beth wholeheartedly joined the Leather and fetish community. Eager to submerge herself in a submissive role she found herself in a D/s relationship. This experience taught her the basic do's and don't of that dynamic. Being a submissive at heart, she has been adding to her switch tendencies, as well as exploring her newly discovered little brat side. Ms. Beth enjoys going to the Farm to learn and train in Pony Play and teaching Pony Play at local events. She is enjoying letting her Pony, Lil Pony Bites, out more with the encouragement of her Daddy and Handler. She is also a board member for Miami Valley Pets and Handlers. Ms. Beth is a member of Ohio Leather Alliance and was Ohio Valley Regional Ms Leather Pride for 2015. She is also a member of Women of Drummer and is their current regional co-coordinator for the North Central Region. You can often find her indulging her fetish of cigars at Argos, or at MJ's where she supports her chosen family. Ms. Beth enjoys learning and teaching American Sign Language. At many events, you can find Ms. Beth combining her passion for ASL and Leather through interpreting. Ms. Beth continually looks to serve and help grow her local Leather Community.
Handler Blaise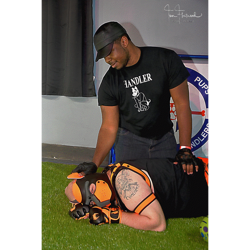 Blaise is a local handler within the Columbus Ohio region and a member of Titans Of The Midwest. He was introduced to the leather and pup scene over four years ago and has continues to fall further in love with the community.
You can normally find him tinkering at new ways to entertain the puppies or being chased by a horde of nibbling obsessed brats. In addition to pup play, his favorite kinks entail binding up puppies and subjecting them to a mixture of electro, tickles, and long rimming sessions. In his spare time, he enjoys either kicking ass while playing some video games. sniffing arm pits, and traveling to local events or visiting friends.