HelloGordon (he/they)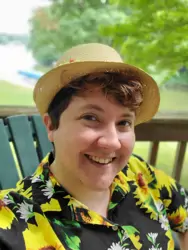 Evolving kinkster and lifelong weirdo, Gordon has been active in the Indianapolis BDSM scene for almost 4 years. He enjoys learning about and dabbling in everything from leather to littlespace and regularly volunteers at the subSpace dungeon to help facilitate a welcoming, safe, and inclusive environment for perverts of all stripes. Whether he's cleaning up at the end of a party or auctioning off tops and bottoms on stage, Gordon delights in serving his community.
When it comes to kink, Gordon is a playful and service-oriented switch. He's also a pet otter who's always on the lookout for new friends and fresh mischief!
In vanilla life, Gordon enjoys writing (predominantly poetry, fiction, and personal essays), drawing, hiking, thinking WAY too hard about cartoons, and spending as much time as possible in pools, lakes, and rivers.
Gordon knows from experience how intimidating it can be for fellow trans and/or gender nonconforming folks, as well as those with anxiety, depression, or other neurodivergencies, to attend events or participate in the kink community. So if you're ever in need of a sympathetic friend to tag along or chat with, just come up and say, "Hello, Gordon!"
---
XCentric (he/him)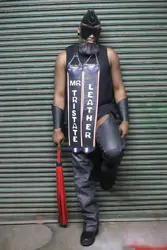 From the Buckeye state, Xcentric is your current Mr. Tri-State Leather. Exploring fetish and kink for six years now, and eager to learn more. Fresh off competing at International Mister Leather 2022, where he placed top 20, This Cocoa Butter Leather Brutha loves a great fragrance and an amazing sneaker and collects both in his spare time. He believes leather shouldn't follow a certain style and instills street culture into his looks. Xcentric realizes the need for the leather culture and its spaces to exist and how fragile maintaining that existence is especially for BIPOC, and hopes to be a catalyst to insure its survival and relevance in the future.
---
Pup Treble (he/him)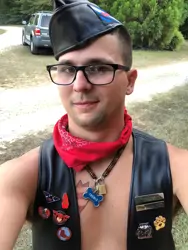 Treble (He/Him) was born and raised in Tucson Arizona where he joined the Army in 2015. While Treble was stationed in California, he was introduced to leather by a friend in San Francisco, and was given a crash course on how to be a Leather Boy. Unfortunately the Army did what it does best, and moved Treble cross country to Augusta Georgia where he was lucky to be introduced to the pups and handlers in Charlotte NC, and BOOM Treble was unleashed per se.
Through the last five years Treble has explored almost every nook and cranny of the kink world to find his full identity. Treble identifies an ABDL Orange Puppy. Treble was honored to be awarded the 2019 SouthEast Puppy title in 2019 (SouthEast Alliance of Leather). Treble in recent years has been helping his partner, Dov, create and produce the Georgia Pup and Handler Contest in Augusta GA. When Treble Isn't causing trouble (the name was deliberate, feel free to ask) He can be found rolling on the mats or trying to hide his padded behind from the terrifying sog monster and diaper checks.
---
Amanda (she/her)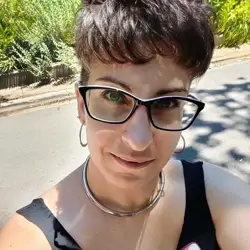 Amanda (pronouns she/her/hers) is bisexual, polyamorous, and a masochist with a love for pups, pets, Furries, and the ones who Handle them. Though the pandemic slowed her down to focus on health and family, she remains active by discussing Leather, kink, consent, and polyamory with both kinksters and vanillas. She is honored to have handled and judged contests such as Illinois Bear, World Bear, International Person of Leather at Sin in the City 8, and South Plains Leatherfest International Master and slave contest. She held the titles of GLLA Ohio Miss Ohio Leather 2019, GLLA slave 2015, and Illinois slave 2015/2014. Amanda is slave to Sir Tj, beta to Aries, and metamour to Slade. She resides in the heart of Chicago with her house demon, Ari.
---
Tokin (he/him)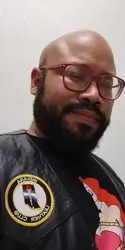 Synister Tokin, or Tokin, as he has been known by many, has been in the Indianapolis community for over 10 years. Tokin identifies as a pansexual, polyamorous POC service top. A volunteer by nature, he's always trying to give back to the community. He's been involved with many local groups in the Indy Community such as SOUL Indiana, Indiana Leather Club and currently is a board member of the Indianapolis Kink Society and helps run Indy Buzz, the local electric group. If there is something strange and unusual you wish to know more about, he may have some ideas of where to find good sources for it.
---
Pup Leo (he/him)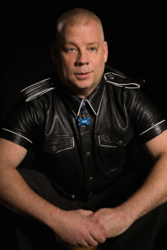 Pup Leo is proud and excited to represent the puppy community as Indiana Pup 2019.
Outside of the kink community, Leo was an Instructor Trainer with International Divers Educators Association teaching recreational, police and fire rescue scuba diving.
Originally from Florida, Leo is a co-founder of MCO-PAH and was part of Northeast Kennel club. Leo relocated to Indianapolis in 2018 where he found his chosen leather family. Leo is active in both the puppy and leather community - a member Indiana Kinky Society and a pup of Indy-PAH.
If his leg is not hiked on his own fire hydrant, he can be found diapered on the puppy mats at a mosh or tied up in a sling… Give a dog a bone!
---
Luna Bones (she/they)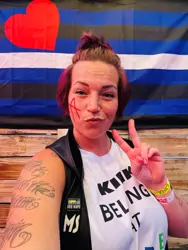 First of Her Name, Ms. Cincinnati Leather 2021 Luna Bones has been challenging the traditional Leather scene since 2018.
As Ms. Cincinnati Leather, Luna has focused on community outreach to shine a spotlight on the Leather/Kink/BDSM scene and being a community figure that offers a safe place for ALL queers. They are a proud Vixxens Pledge, on the journey to becoming a Cincinnati Sister, and the Leather representative for Cincinnati Pride.
Though they have been exploring their Dominant side, Luna proudly puts the "OH!" in masochist and enjoys being a service submissive, a Mama Bear to all that need her, and will tell you that learning is their favorite kink! If your looking for their hankies, Luna wears houndstooth (left and right), Maroon (right), Black (right, exploring left)
Luna currently resides in Northern Kentucky with The Spawn and their 3 cats (Drak, Binx, and Odin). When not out and about in the community, Luna enjoys spending time with their Partner and chosen family, playing video games, or going on adventures.