Producer - pup Spaz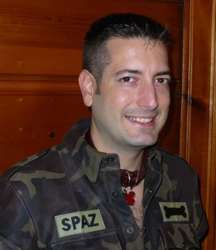 The Producer is the driving force behind the contest - they are the ultimate decision maker. They decide when, where, what and who is involved with the contest and are mostly behind the scenes greasing the wheels to ensure and exciting and fruitful event.
Pup Spaz is from Indianapolis, Indiana and has identified as a leather pup since 2009. Spaz can frequently be seen and heard around the community shooting pool and chasing squirrels, however Spaz now spends much of his free time traveling, educating and encouraging other pups and pup groups. Pup Spaz founded and is head instigator of Indy PAH, a regional pup group representing Indianapolis and greater state area, providing a social group with events for local pups to learn, play and share experiences with their community. Indy PAH was honored to be awarded Tri-State leather's Community Service Award for 2015. Spaz is also the owner / producer of the Indiana Pup and Trainer Contest and closely relates to the Mr. Friendly mission to end HIV stigma and is a PrEP advocate. Spaz was proud to be awarded and represent the first Tri-State pup title in 2014/15 and continues to share his unique personality and enthusiasm with his leather community.
Co-Instigator - Amy (-i_am_soul-)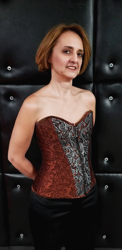 These people worked tirelessly up to the event coordinating just about anything that makes the weekend so special!

Amy (-i_am_soul-) has been an active member of the Indianapolis kink community since 2015. She is very involved in the operation of Indianapolis' local dungeon, subSpace Indy. You can find her there almost any time the doors are open, and even when they aren't.
In addition to her involvement as the dungeon Girl Friday, Head Mistress, or perhaps, Warden. Amy has served three terms as a Board Member for Indianapolis Kink Society. She is a supporting member of Indianapolis Leather Club and regularly attends the Indianapolis Newbie Munch.

Amy's interest in BDSM lies mostly in kink play. As a bottom, she enjoys needle, impact and fire play, as well as device bondage with sensory aspects, and is always up for experimenting with new forms of play.
Amy has organized multiple events, both educational and social, for subSpace Indy over the last four years and assists other groups and clubs as the liaison for events in the community.
Emcee - Brian Bolt Donner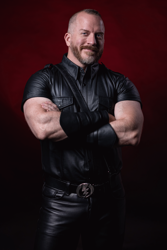 The Emcee is the master of ceremonies during the on-stage portion of the contest, engaging the audience and providing continuity to the stage presentations.
Brian "Bolt" Donner competed and placed third at IML37 in 2015 and hasn't stopped moving since. A founding member of the Cincinnati Sisters of Perpetual Indulgence and the Cincinnati/Northern Kentucky Ruff Pups, President of the Titans of the Midwest from 2018-2019, and Executive Producer for Cincinnati Leather, the first men's contest to remove the gender restriction and become a fully gender-open leather contest. He is a long-time member of the bear, pup, and leather communities, bondage switch, alpha pup, designer, illustrator, educator, giant comic book nerd, dad joke aficionado, kinky bon vivant and rapscallion.
Game Show Host - boy paul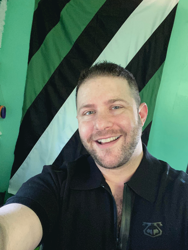 by paul is a leatherboy from Dayton Ohio who is big into heavy bondage and being of service. paul has been in the leather community for over 12 years and mixes his leather and kink with his love of game shows.

On-Stage Handler - Handler Blaise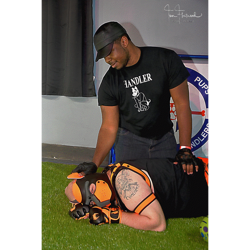 This person helps the performers with various tasks - on stage!

Blaise is a local handler within the Columbus Ohio region and a member of Titans Of The Midwest. He was introduced to the leather and pup scene over four years ago and has continues to fall further in love with the community.
You can normally find him tinkering at new ways to entertain the puppies or being chased by a horde of nibbling obsessed brats. In addition to pup play, his favorite kinks entail binding up puppies and subjecting them to a mixture of electro, tickles, and long rimming sessions. In his spare time, he enjoys either kicking ass while playing some video games. sniffing arm pits, and traveling to local events or visiting friends.