About Extreme Productions
You must be ticketed to gain entry to the venue. Please register before arriving.
This is a BYOB venue, and food is allowed too. There is a refrigerator with limited room for drinks. Ice, water and plastic cups are provided, and soda products are available for purchase during the weekend.
Changing rooms are available should you wish to get into something more comfortable at the venue.
This will likely be mostly a social event, however, play is certainly encouraged and allowed, as is nudity. It's a completely private event!
Facility Rules
Glass is not permitted except in the kitchen area (use provided solo cups).
Nudity is permitted.
Intentional breaking of the skin is not permitted. This includes needle play.
EP Rentals has the final say about anything that is taking place.
No smoking or vaping allowed in the building.
Do not hang out outside of the gated area or in the street.
No guns permitted on the premises.
EP Rentals reserves the right to ask anyone to leave or ban anyone from returning to the premises.
Parking
The venue address is 2043 E. 46th St., Indianapolis, IN 46205
We have limited onsite parking, as well as parking across the street. There is also abundant street parking. Please be mindful as to how you're dressed. Street parking is mostly in residential area. We have dressing rooms inside the facility so you can get changed into whatever you want! See the below image for the highlighted areas for which you can park. Also notice the entrance is on the rear of the building inside the fenced in area.
Most spots in the fenced-in area are RESERVED for our vendors this weekend so they can easily load and unload all the wonderful products they are offering.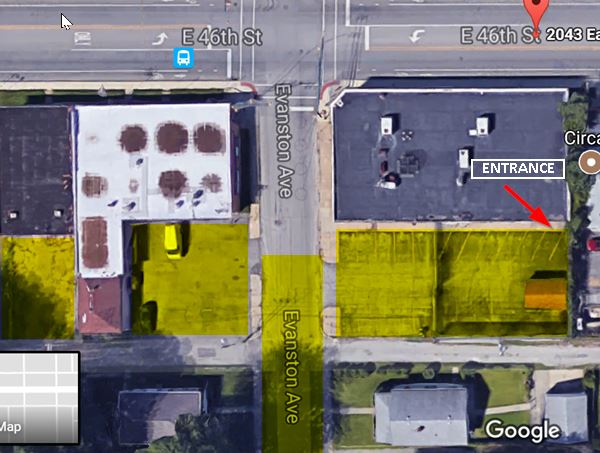 Nearby Hotels
Some options on lodging are provided here for your convenience - these hotels are not endorced or related to the contest, if you have others to recommend, please Contact Us!